Ahead of this year's Goodwood Festival of Speed, Caterham have partnered with VERTEX Watches to produce a limited edition timepiece, the MP45 C50, to celebrate the car brands 50th anniversary as a manufacturer.  This special mono-pusher which will be displayed on the Caterham stand, showcases the meticulous craftsmanship and attention to detail that both British brands are renowned for. 
The MP45 C50 combines the classic elegance of VERTEX Watches with the exhilarating spirit of Caterham. This limited-edition watch is a true celebration of both companies' classic, timeless design and precision engineering. Its standout feature is the bespoke Tachymeter Timing Dial, specially designed to reflect precision timing over distance.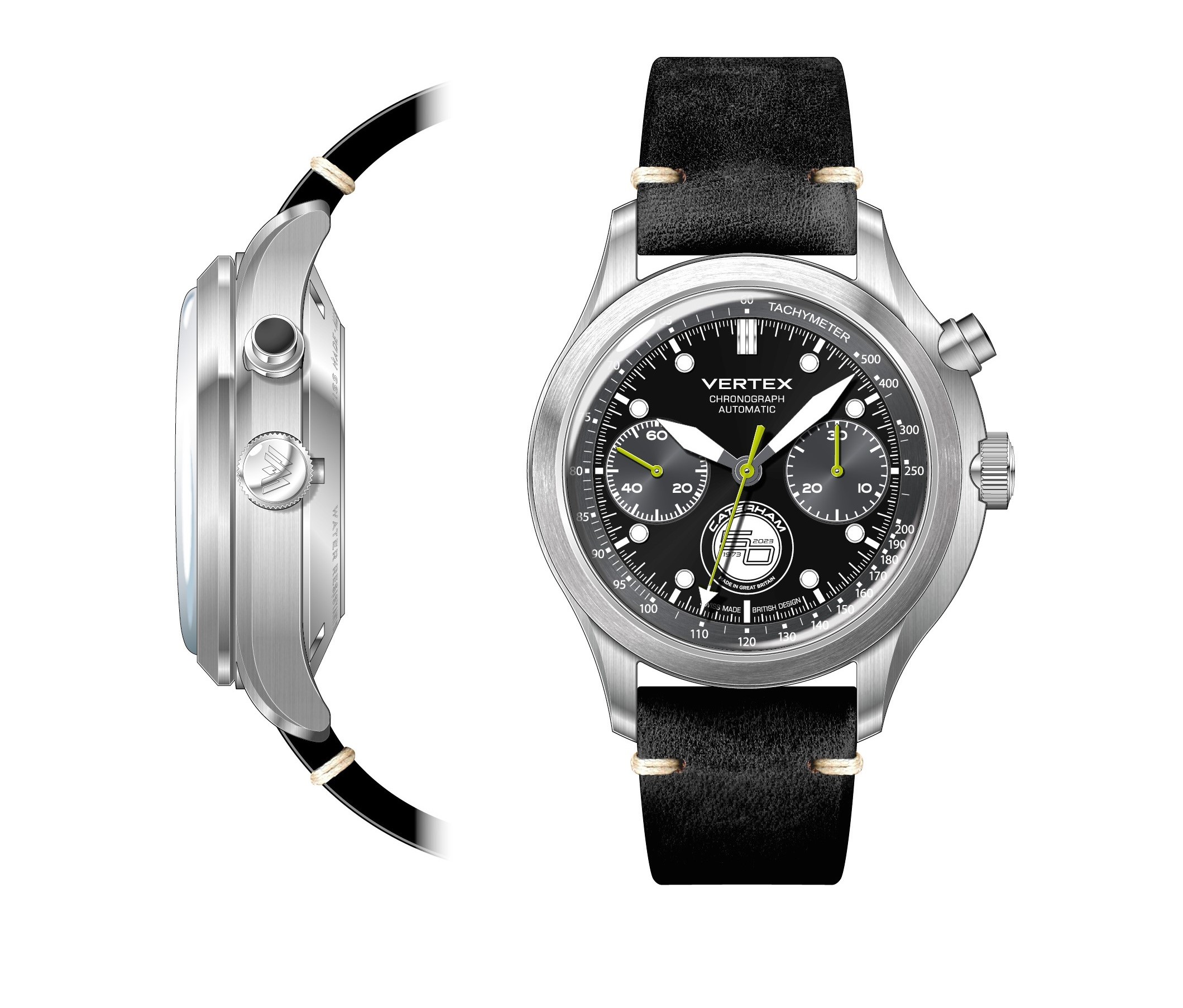 "We are thrilled to partner with Caterham for this exciting collaboration," said Don Cochrane, Chairman of VERTEX Watches. "The MP45 C50 embodies the shared values of our two brands - a commitment to excellence, timeless design and a relentless pursuit of perfection. It is a testament to our shared passion for creating exceptional products that stand the test of time."
The Tachymeter Timing Dial on The MP45 C50 allows users to measure speed based on time elapsed over a fixed distance, showcasing the watch's functionality alongside its striking aesthetics. Crafted with the utmost precision, the dial features a unique design that reflects motorsport heritage whilst showcasing the Caterham 50th anniversary emblem. The MP45 C50 is limited to only 50 individually numbered pieces. The watch is delivered in a custom Pelican case with a vintage leather strap, a rubber strap and a unique Caterham nylon strap.
In addition to the watch collaboration, Caterham and VERTEX Watches have established a successful partnership on track. At the start of 2023 the British watch brand joined the Caterham Motorsport paddock as the title sponsor of the Vertex Caterham Roadsport Championships. 
To register your interest in the MP45 Caterham 50th Anniversary Edition, please click here and we will be in contact shortly to confirm when online ordering becomes available.  
Vertex MP45 Caterham 50th Anniversary Edition Technical Specification:
-Sellita SW510 MP automatic mechanical movement. 
-48 hour power reserve.
-Brushed steel: 40mm 316L.
-Waterproof to 100m.
-Printed Super-LumiNova™️ dial, with Tachymeter 
-Brushed steel case back and sapphire crystal glass.
-Aged dial with Arabic numerals to maximize legibility with military broad arrow.
-Delivered on a vintage leather strap with black rubber and unique Caterham nylon straps included.
Priced at £3,450 inc VAT