2022 has absolutely flown by – and oh boy, have we been busy! In the countdown to 2023, we thought it would be helpful to share a little recap of all the actions from 2022. From a new CEO to exclusive track days, new models to drifting, we've been non-stop.
February 
It wouldn't be a round-up if we didn't mention motorsport, and where better to start than… well, the start.  Every year we welcome over 50 new racing drivers to the world of Caterham motorsport through our Academy.   In February, our fresh batch of drivers officially began their racing journey when they successfully completed their ARDs test – allowing them to hit the racetrack and compete in the 2022 Caterham Academy Championship.
March
March saw our first track day event with Mission Motorsport with their National Transition Day. The aim is to help individuals transition from the 'Military to Civvie Street' through various motorsport opportunities. As a way of saying thank you for their service, we provided hot rides in our Seven 620 and 420 around the Grand Prix circuit at Silverstone.
April
Our 2022 motorsport championships kicked off at our home circuit, Brands Hatch, where we introduced our new look livestream.  Hosted by Caterham Alumni – former Caterham Motorsport competitor Chris 'Cheesy' Hutchinson, and former Caterham Experiences driver Samantha Parker – we jumped straight into the racing, capturing every moment from the paddock to the podium. 
April also saw our first-ever Caterham Cars exclusive track day.  Joined by our Caterham Motorsport sponsors, and the Caterham and Lotus Seven Owners Club, we descended on Snetterton for a special Caterham-only track event where we showcased the latest in our UK range.  We had a fantastic time getting to know the owners, and look forward to hosting more Seven-exclusive track days in the future.
2022 once again saw our annual Open Day, hosted at the Gatwick HQ. The ultimate event for Caterham owners, enthusiasts, and fans. Parts sales, family activities, historical displays, and Caterhams as far as the eye can see. Oh, and don't forget the mandatory coffee and bacon roll upon arrival. We even placed a special order of sun for the day, for what became a highlight event of the year.
May
Just weeks after our exclusive track event, we were once again at Snetterton. It marked the first race weekend where all of our championships would be in attendance – the Caterham Academy Championship, the Lovecars Roadsport Championship, the Mission Motorsport 270R Championship,  the Motul 310R Championship and, finally, the Avon Tyres National Level Seven Championship (UK). 
As you've gathered, we love a bit of racing - but we love road trips too! So when Caterham Silverstone told us they were having Seven owners at their dealership for the day, before convoying over to Caffeine & Machine, we jumped at the opportunity to join them. Over 20 Sevens in convoy from the Silverstone dealership was a sight to behold. This, teamed with fantastic country roads, before arriving at the epic venue of Caffeine & Machine, provided us with another memorable 2022 experience.
The fun didn't stop there. Oh no, we had to answer a very important question… What happens when you let the Motorsport engineers loose on one of our best-ever road cars? Well, they take a 420R, sprinkle on some motorsport know-how from our top-level Seven Championship UK racer, pair it with some newly developed 10-way adjustable Bilstein dampers, a 6-speed Sadev Sequential transmission, and what you are left with is Seven to trouble most supercars on track, the all-new Seven 420 CUP.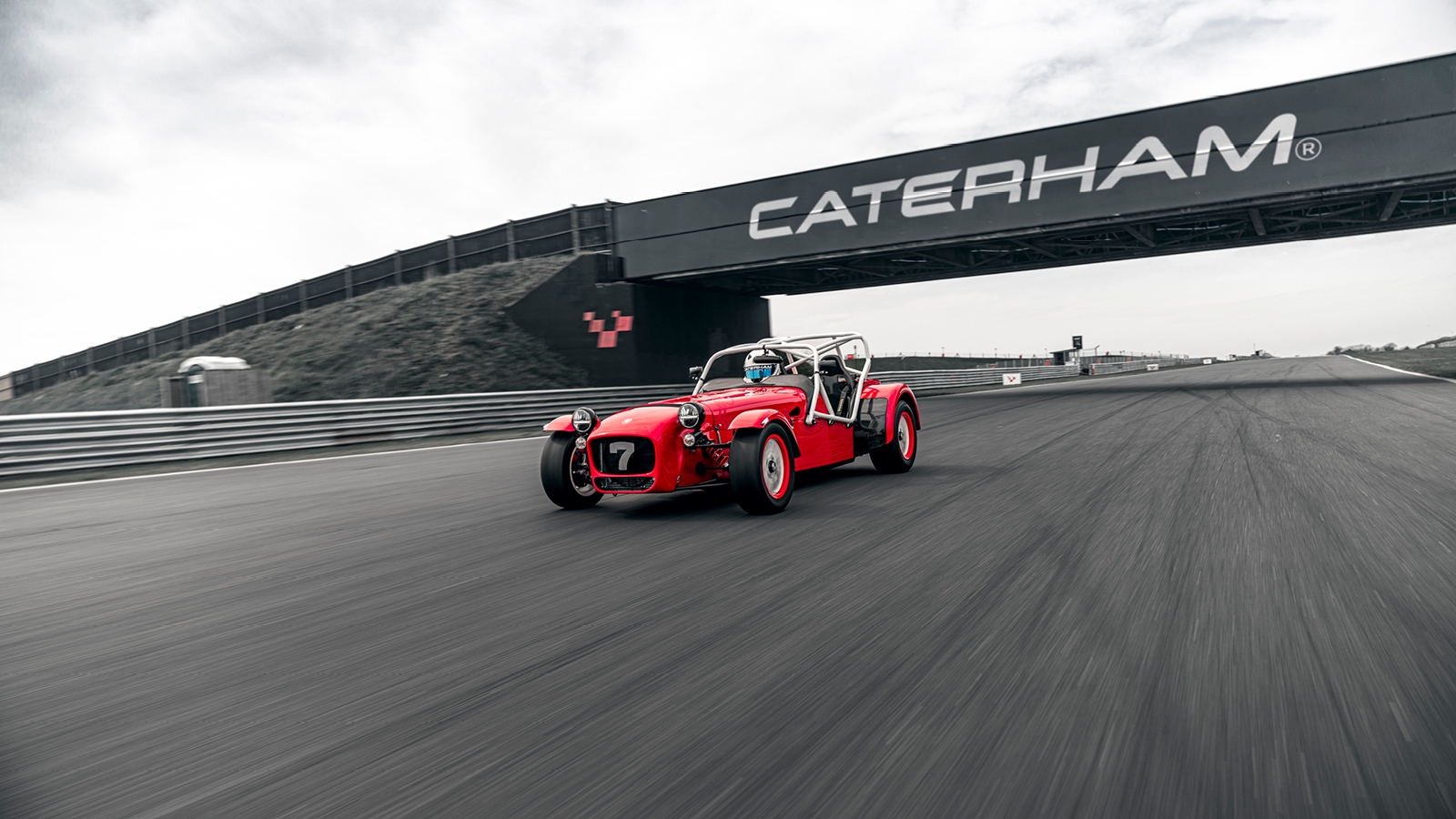 June
Plenty of action was in store for us at the home of British Formula 1, Silverstone.  Running on the GP layout, the weekend was bound to be special – and it certainly didn't disappoint.  Silverstone itself hosted a 'Caterham Festival', providing Caterham owners with exclusive parking within the paddock and access to the media suites at Club Corner.  Our resident media driver Paul Woodman also achieved his first official race podium!
This was quickly followed by our first major event of the year.  Which saw us head down to Goodwood's Festival of Speed. Showing off our current range, this was the first public appearance for the Seven 420 CUP, and what better way to show it off than to send it up with hill? GoPro mounted, a CSCUK driver behind the wheel, and you have quite the spectacle.
After the fun of Goodwood, we took to more of a serious topic of a carbon-neutral future for motorsport. Together with Motorsport UK and the All-Party Parliamentary Group for Motorsport Today, we supported 'Our Eclectic Future' at the British Motorsport Day in the Palace of Westminster. Caterham, along with the Historic and Classic Vehicles Alliance (HCVA), and Prodrive, demonstrated the benefits of sustainable fuels.
July
July was a huge month for Caterham as we welcomed our new CEO, Bob Laishely.  Bob assumed the position from Graham Macdonald, who retired after 15 years of working for the brand. Bob has amassed over 40 years of experience in all aspects of vehicle design, innovation, engineering, sourcing and project management. Culminating with six years as Program Director for NISMO road cars and sports models, including the Nissan 370z and GT-R. 
Donington marked the halfway point of the season for our motorsport championships.  The weekend was nothing short of spectacular with bright sunshine, close racing from everyone competing, attendance from our incredible sponsors, our exceptional Safety Car provided by the British Motor Show… plus, of course, the Caterham content.
That wasn't all for motorsport in July.  Caterham also announced that we would be joining the British Racing Automobile Club (BARC), one of the UK's biggest motorsport organisations, as our new official club for motorsport events (for the 2023 season and beyond).  The biggest shake-up in Caterham racing in three decades, we're now positioned to take our championships to a new level, continuing our successful growth.
Heading back to Goodwood, this time at the motor circuit in support of The Children's Trust and their Supercar Event. Conducting passenger hot laps to raise money for this fantastic cause, we had our 420R and 420 CUP put to work. Over the course of two days, hundreds of laps were racked up, and over £105,000 was raised for charity.
Straight off the back of The Supercar Event, our Sevens were in attendance at the Goodwood Classic Car Sunday Breakfast Club. With plenty of mouth-watering classics on display, including several Series 2 Sevens, it was a great opportunity to catch up with the wider car community and show off a selection of cars from our press fleet.
August
In typical Caterham style, summer was the busiest time of year for us – with back-to-back events for the whole month.  Kicking off with Anglesey, we had three days of glorious sunshine on the Welsh coast. This was quickly followed by the return of Drift Taxi at the British Motor Show.
Now, a tyre-smoking, fuel-burning experience may not feel very 2022… but keep reading.  For the first time, we ran Drift Taxi as close to carbon neutral as possible.  We worked in partnership with the amazing team at Coryton, who provided bio-fuel for all of our drift vehicles, Avon Tyres, who recycled all tyres and also Halfords, who supported us with tools to keep the car running.  We were also joined by premium car sales platform PaddlUp, who supported not only the experience but our unique, full-sized Caterham simulator.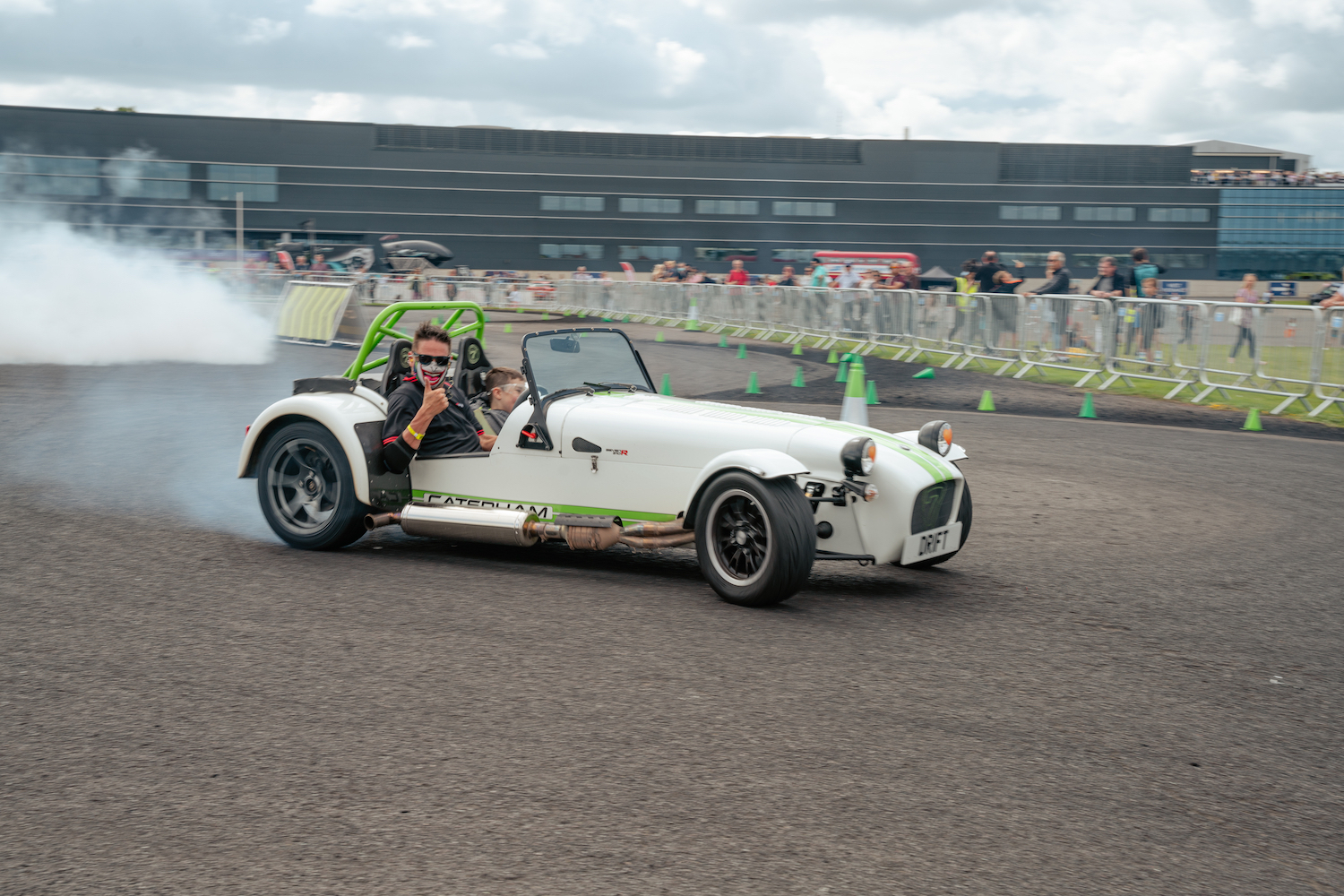 September
We found ourselves once again at Silverstone, this time joining the Caterham / Lotus Silverstone track event.  We took our whole press fleet along, allowing the new 420 CUP to really stretch its legs with a mixture of both racing drivers, journalists and customers getting behind the wheel.  We even let the 170R out to play.
Then, it was time to crack out the tweed jackets, race suits, mechanics overalls, etc., as we headed to Goodwood Revival. Due to the unfortunate passing of Queen Elizabeth II, we postponed the launch of our new Super Sevens - due to take place at the Revival. Instead, we displayed the cars as a unique 'first glance' event, before unveiling the cars online a week later.  All staff wore black armbands as a mark of respect and observed the minute silences.  
As mentioned, shortly after we launched the Super Sevens, our two models set out to take the style of the 70s and re-imagine them for the 21st century.  Taking what we learned from the Super Seven 1600, we applied the bespoke visual touches only seen in Super Seven, to once again remaster a classic icon. 
Naturally, motorsport came to the party with a very unique race event taking place at Knockhill. For the first time ever, Caterham introduced the Knockhill Super-Header – where over 160 Caterham racers took to the circuit on two different layouts.  On Saturday, we ran in the typical 'clockwise' direction, and then on Sunday, we ran 'anticlockwise'.  A motorsport first, and an event our drivers will never forget.  
October
Our inaugural Caterham Sevens Rally at the Beaulieu Motor Museum brought our major events of 2022 to a close. With 103 sevens in attendance and the support of the Caterham and Lotus Seven Club, this was a great opportunity for owners to get up close and personal with the new Super Sevens, and also chat with our CEO Bob Laishley. For many, this would have been their last run of the year before tucking their Seven away for the winter period.
As the weather began to turn, it also signalled the end of our motorsport championships with an incredible doubleheader weekend.  Hosted from two locations, our championships we're divided into 270R, 310R and CSCUK at Spa Francorchamps, with Academy and Roadsport at Silverstone.  A weekend full of dramatic finales resulted in the crowning of our champions, and a fitting close to the 2022 season.  
November
Our final outing to Goodwood saw us looking for something truly special to finish off our great year of UK events. To see out the final Breakfast Club meeting, we dug deep with a very kind owner lending us their very rare Caterham Levante, for many a model unknown to them. Fitted with a 500+ bhp V8 and a redline in excess of 10,000 rpm, it was a star of the event.
With the demise of the Sigma engine in 2021, plenty was left wanting in the EU and Japanese markets for something to bridge the 170 and 485. Enter 340, blending outright performance teamed with accessible driveability. What better way to launch a car than to put it to work by attending some of the largest motoring shows in Europe;  Auto Zurich and the Interclassics Classic Car Show. If that wasn't enough, the new 2.0 Duratec engine has been put to the test in Motorsport Magazine France, the sports car of the year contest.
December
With the year drawing to a close, there was one final piece of news to share.  If you've not seen it already, Caterham Motorsport is off to Barbados. Yep – a special Caterham Caribbean Cup event will be taking place at Bushy Park in November 2023. 
2023
So, what can you expect from Caterham in 2023?   Seeing as next year we'll be celebrating 50 years as a manufacturer, we're pulling out all the stops. Over the coming days, weeks and months we'll be sharing some 'save the dates' and our 2023 event calendar.
That's as much as we'll share now, as there are plenty of surprises in store... you'll just have to stay tuned to our social channels to find out more…
We'd like to say a huge thank you to all of our customers, seven owners, motorsport sponsors, our partners, our racing drivers and everyone who visited us this year to make 2022 incredible. We can't wait to see what 2023 brings.
Team Caterham... over and out.