Get ready for an all-new Seven destined for Europe and Japan! We're proud to introduce the new Seven 340. Sat in the middle of our European range, and replacing the immensely popular Seven 275, the new Seven 340 once again blends outright performance with accessible drivability. The only real difference being that this time round we've decided to add a little more "pizazz" to the mixture.
The Power
Gone is the 1.6 litre Ford Sigma engine in favour of the 2.0 litre Duratec that can normally be found further up the Seven food chain. This means more low-end torque and a punchy 170bhp to get the job done. That's a 25% uplift compared to the outgoing 275, with a minimal increase in emissions (only 2%) – continuing to meet the emissions standards in place throughout Europe.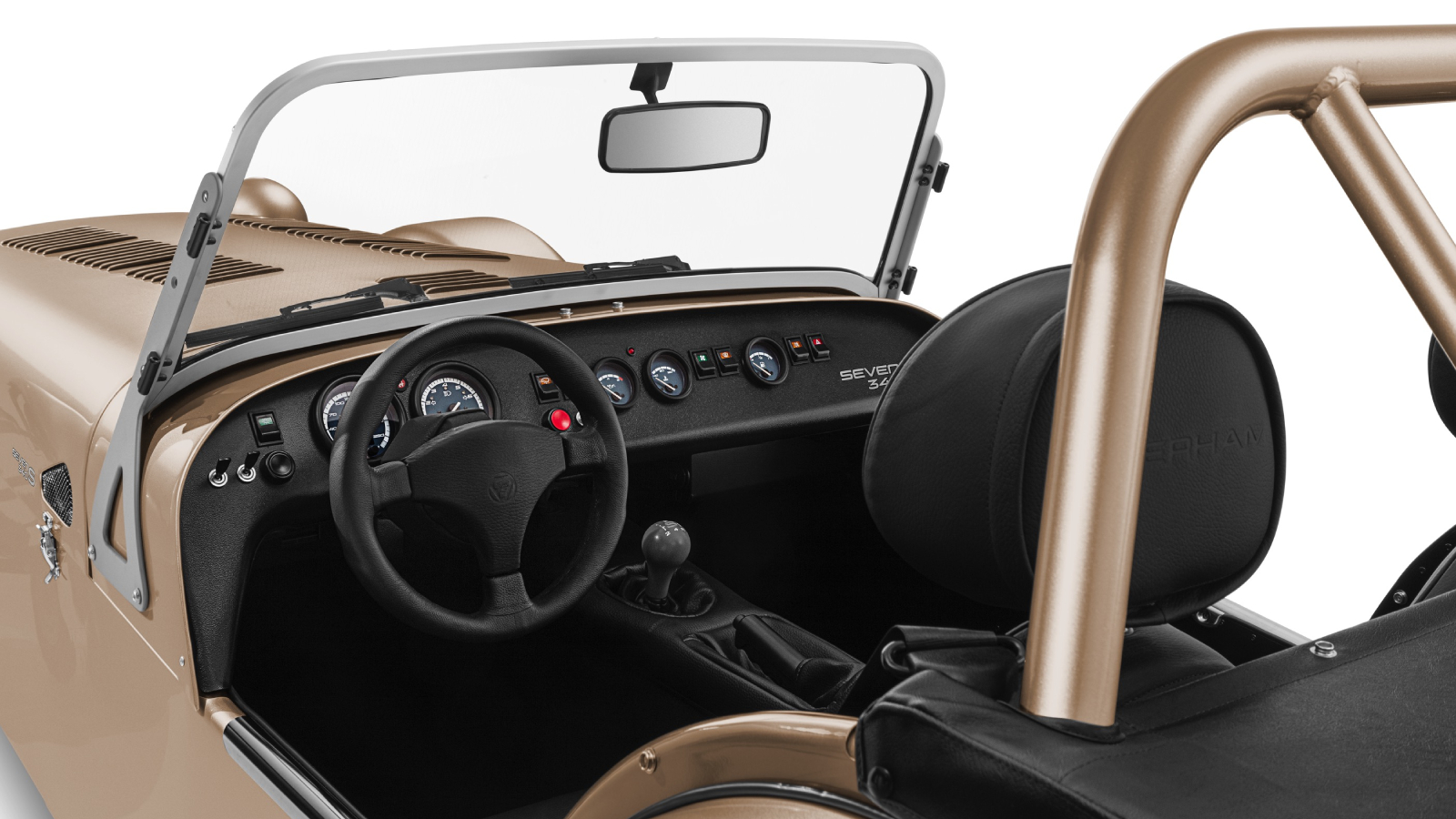 But, as with its predecessor, the real magic lies in the overall balance we've engineered into the car.  With just over 500kg* to push along, the 340 has a power-to-weight ratio designed to entertain without becoming overly aggressive or fatiguing.
This car simply makes you want to drive, inspiring confidence and devouring any road you choose to put in front of it. Plus, the added "pizazz" we mentioned means on-track performance is sure to please even the most demanding of driver.
Speaking of drivers, there is a 340 for everyone…
S Pack vs R Pack
There are two distinct flavours on offer for the new 340.  The road-going Seven 340S (or S-Pack) is for the more laid-back driver who wants a fun, grand-tour, mile-minching experience. It comes with a five-speed gearbox, road suspension pack, 14" classic alloy wheels, full windscreen, hood and side screens and black leather seats.
If you're looking for something with a little more spice, then the R-Pack variant may be more for your taste.  The 340R is best suited to the track day fanatic.  Fitted with a limited-slip differential, sport suspension pack, 15" Orcus alloy wheels, four-point road harnesses, carbon-fibre dashboard a composite aeroscreen.
Additional Options
As with our latest UK models, all 340s will come with our new Caterham rear LED lights as standard, not only improving visibility – but also giving the rear of the car a more modern look.  The Seven 340 is offered in standard and large chassis sizes with multiple seat options, you can also spec a lowered floor option (for the taller customer).  
For that added personal touch, be sure to take a look at the signature section.  Here you'll find a selection of custom accessories that can make your Seven truly unique.   From individual paints, to alternative dashboards and extended interior packs – there is something for everyone.  
While the Signature Range isn't available on our configurator just yet, you can still specify to your heart's content by clicking here.  As with the rest of our EU range, the Seven 340 is hand built in Britain by our dedicated team and is only available as a factory build (EU laws, unfortunately).
The Numbers
EU prices for Seven 340S and Seven 340R start at €45,700.00 and €47,200.00, respectively. Customers in the Japanese market should contact their local retailer for further information.
| | |
| --- | --- |
| Top Speed | 130 MPH (209 KPH) |
| CO2 | 148 g/km |
| Power | 170 bhp (127kW) @ 7,250 rpm  |
| Torque | 174Nm @ 6,500 rpm |
Where Can I Find Out More?
Head over to the product page for your location: